Microsoft introduces Surface Pro 3: the tablet that can replace your laptop
Surface Pro 3 has a 12-inch Clear Type Full HD display, 4th-generation Intel® Core™ processor and up to 8 GB of RAM. With up to nine hours of Web-browsing battery life, Surface Pro 3 has all the power, performance and mobility of a laptop in an incredibly lightweight, versatile form.
With the new Surface Pro 3 from Microsoft, the software powerhouse (and sometimes hardware maker) says it finally has the single grand unified device that will satisfy both the creation and consumption instincts equally. You'll feel just as at home watching a movie or reading a book as you will editing video footage or writing your novel.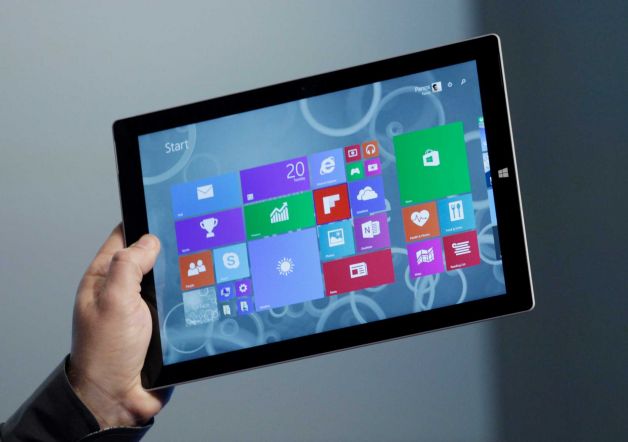 Design and features
Despite the talk of this being the thinnest Intel Core i-series device to date, it still doesn't feel quite as thin and ethereal as, for example, the iPad Air. But its thinner body, coupled with a larger 12-inch screen, give it a more upscale feel than either the Pro or Pro 2, which were criticized for a certain boxiness.
Both of the previous Surface Pro models had 10.6-inch screens and were 13mm thick, with a footprint of 10.8 inches by 6.8 inches. This new 12-inch version is 11.5 inches by 7.9 inches, but drops the thickness to an impressive 9.1mm.
Built into the thin body you'll still find a full-size USB 3.0 port, microSD card reader, and Mini DisplayPort, 5-megapixel and 1080p HD front- and rear-facing cameras, as well as stereo speakers with Dolby Audio-enhanced sound. Other hardware specs include SSD storage from 64GB to 512GB; 4GB or 8GB of memory; 802.11ac or 802.11a/b/g/n Wi-Fi; and TPM 2.0 for enterprise security.
With a wink and a nod, Microsoft says this new Surface Pro design isn't exactly fanless, but it might as well be. That's because the new system internals, designed in partnership with Intel, allow the system run run not only ultra-low voltage Core i3 or i5 CPUs, but also Core i7 ones, with a slim, quiet fan moving air as needed without that telltale whirring sound, or a fan exhaust blowing on your hands. Surface Pro 3, a mid range model with an Intel Core i5 CPU, certainly felt cool and ran quietly during our initial hands-on testing, but the same can be said of many Windows 8 tablets.